Applied AI helps companies in reducing their time to market with scalable DevOps Solutions.
This blog covers the top benefits of DevOps-in-a-Box in the finance sector along with the popular
myths and challenges.
Key Challenges of Implementing DevOps in Finance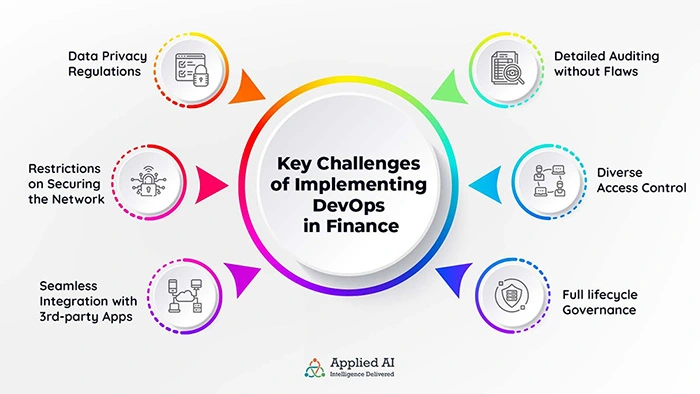 When it comes to keeping up with the latest digital trends, the Finance sector is no exception. Here are some of the major challenges that you may face while implementing DevOps in Finance:
Data Privacy regulations & restrictions on securing the network.
To monitor each phase of the development process, full lifecycle governance is included.
Seamless integration with third-party applications
Detailed auditing that does not allow flaws or problems
Diverse Access Control List Modules
You probably heard about DevOps! But not DevOps-in-a-box.
DevOps in a Box is a tool that intends to help organizations to improve the speed of their digital transformation by more than 2x.
It manages the DevOps practices automatically by providing both cloud resources and readymade components to accelerate the development and delivery processes and reduce time-to-market.
In short, It provides a scalable, flexible, and cost-effective solution for your DevOps practices. Most important of all these solutions are time tested with very low support cost.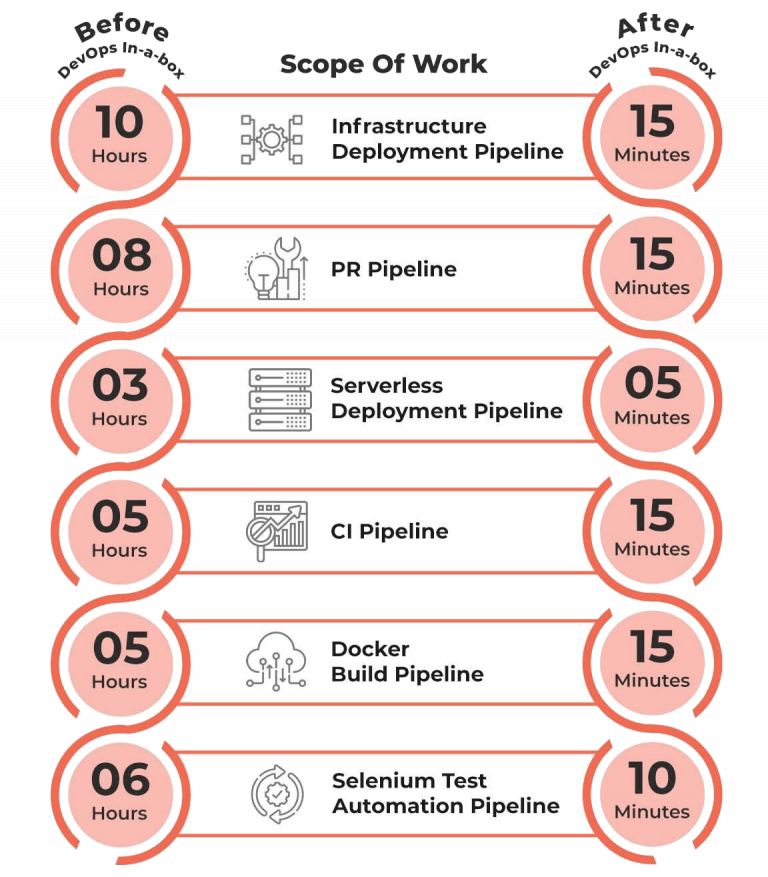 Why DevOps for Finance Organization?
There are some specific aspects to be careful about and are mentioned below.
To give you an example, here is an organization that was integrating many finance tools for their accountability and receivables. Many years of point-to-point integration have resulted in a large codebase to maintain. Not only that but also the professional services team in charge of implementing the product on the customer side was taking a long time to get the ball rolling.
It is very common for a client to see that each customer has a different tool with which they must integrate. This is where our DevOps-in-a-Box assisted them in integrating the most well-known finance tool. As a result, the time required to implement professional services was reduced.
Besides that, a single integration component aids in the better maintenance of the integration. So that each and every client having one-one integration can be reduced.
Overall, it reduces the speed, amount of code, and ultimately the amount of support required.
Now you know the purpose of DevOps in a Box and are more interested in knowing its benefits in the finance sector, it's better to have a quick look at the trends that are happening in the Finance sector.
Trend Happening in the Finance Sector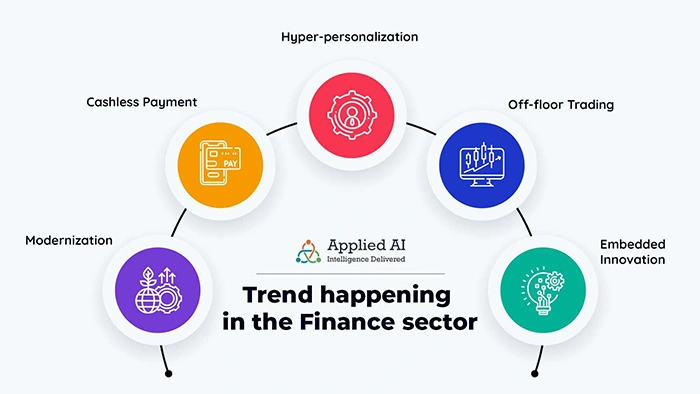 In today's fast-paced technological world, quick delivery of services has become key to financial firms to succeed in the race.
The challenge of high customer dependence and resultant demand for quick delivery of solutions to meet the end-user need is what brought these trends in the financial sector:
Modernizing the core dated system became a necessity.
Cashless payment has increased digital engagement
Hyper-personalization is redefining the customer journey in the insurance segment
Trading between institutions and wholesalers has shifted away from trading floors.
Embedded innovation is the new status quo
Benefits of DevOps-in-a-Box in Finance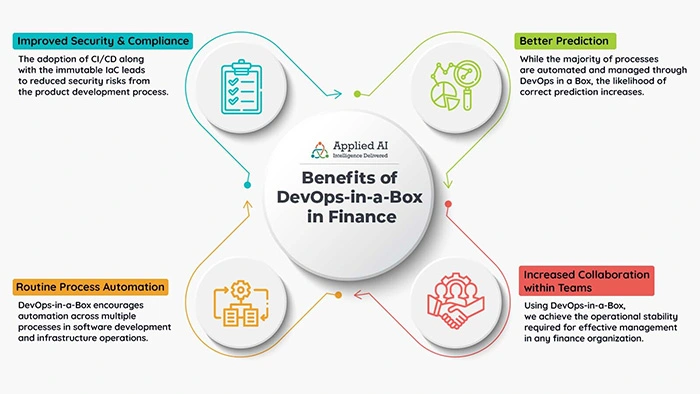 1. Improved Security and Compliance
Considering the amount of legacy code and old methodologies many companies feel that embracing DevOps is risky. While the fact is that DevOps-in-a-Box has helped Financial organizations deliver value to the market safely and efficiently with optimized expenses.
Here are the top benefits that you will experience having DevOps in a Boc in the Finance industry:
The finance segment deals with a large number of transactions and investments. Hence, it becomes crucial to secure the customer data & comply with multiple regulations and standards. 
The adoption of continuous integration and continuous deployment (CI/CD) along with the immutable infrastructure as code (IaaC) leads to automate software lifecycle pipelines which leave limited/no room for human errors. 
In addition, following the regulatory compliance approach eliminates security risks from the product development process.
2. Routine Process Automation
DevOps in a Box encourages automation in software development and infrastructure operations across multiple processes. That helps organizations catch up the ​​speed, consistency, and greater accuracy. Ultimately increasing the number of deliveries in the transformation process.
It allows for simple server provisioning, configuration, data backup, and restoration This includes everything from design to deployment and monitoring.
When the majority of processes are automated and managed through DevOps in a Box, the likelihood of correct prediction increases. Financial businesses may provide greater value to their customers by assuring the timely delivery of feedback and subsequent product operations. 
4. Increased Collaboration within Teams
Communication and collaboration between departments are key to the DevOps culture. And as we know,  The majority of financial companies are diversified and outsource some of their operations. For operational stability, effective engagement is critical that is achieved through DevOps in a Box.
Use Cases of DevOps in a Box in Finance
Let's look at some examples of how firms have embraced and scaled DevOps methods across their organizations. These insights will assist you in understanding how prominent finance companies are utilizing this strategy to propel their businesses to new heights.